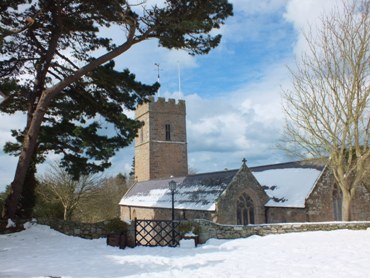 St. Pierre du Bois church
"Guernsey in the snow" Christmas cards
Living Streets (Guernsey) LBG has brought out a set of 8 Christmas cards which depict scenes of Guernsey during the blizzard conditions last March. The Upper Parishes became quite magical with the snow drifts and the trees heavy with snow. All the pictures were taken in St. Pierre du Bois and Torteval (mainly because it was in walking distance of my home!
Packs of 8 different cards will cost £5.99. We are very flexible regarding your requirements. You can choose just one card if you like - 8 will also cost £5.99. Or you can buy individual cards for £1 each.
We will be selling direct to the public at the St. Martin's Farmer's Market and all our usual card stockists should be holding the cards. If in doubt phone Pat on 01481 268088.
click here to see the 8 designs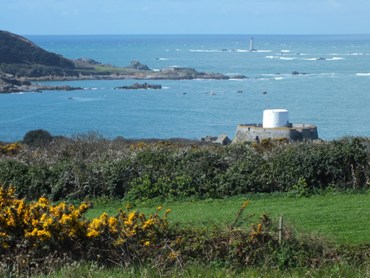 Guernsey Country Walks 2014 Calendar is out!

Living Streets has launched its new 2014 calendar which will be selling at the St. Martin's Farmer's Market at Sausmarez Manor on Easter Saturday and throughout the year. Each month has a sketch map of a country walk which uses mainly lanes and green lanes and takes around an hour. The photo has been taken on the walk. New this year is the position of bus stops on the maps.

Calendars are already in some selected retail outlets such as the Coach House Gallery, The Tapestry Centre in St. James, Martyn Guille's at the Little Chapel, Beekers on the Bridge, Oatlands, Le Tricoteur at Fort Grey, the Guernsey Shop, Lexicon and the Press in Town. It will soon also be in the major Museums and the Tourist information office.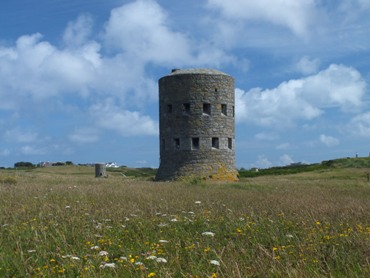 Five new cards added to the set

Living Streets has added five new cards to its "Guernsey Country Walks" series of greeting cards. Three of the new cards feature walks in the north of the island:

Beaucette Marina - exploring the network of Ruettes Tranquilles between Beaucette and Bordeaux. You pass several quarries - remnants of Guernsey's granite and stone quarrying industry. Nearby is the Neolithic burial mound Le Dehus.

Bordeaux Harbour - a walk around the harbour and then taking the footpath up to Vale Castle and back. Perhaps followed by a cup of Woodies coffee!

L'Ancresse - a walk around Pembroke Bay following the route of the Martello Towers - which were built to protect Guernsey against invasion from France in 1778.

St. Martin's green lanes and cliff path where there are stunning views of the south coast towards Petit Port. This card is linked to Les Douvres Hotel - a former 18th century manor house.

Finally, in the heart of the island a circular walk through the parishes of St. Saviour, St. Andrew and Castel. This card is linked to The Farmhouse Hotel and is slightly longer than other walks - about an hour and a half, but you can shorten it if you like.

We sell our cards directly to the public on the last Saturday of the month at the Sausmarez Manor Farmer's Market. You can also purchase them from most tourist and card retail outlets. Individual cards are £1 each and they also come in packs of 5 (£5) and 9 (£9) which make great presents.
click here to see the five new designs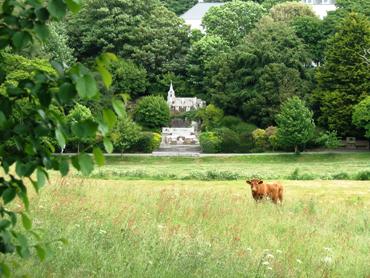 Guernsey Country Walks Calendar 2013 is launched

A new addition to our Guernsey Country Walks brand is our 2013 Calendar which contains some new photos and some new walks. Each month gives you a circular one hour walk which make the most of the seasons - a winter walk in Torteval and around the reservoir, daffodils are depicted in our St. Pierre du Bois walk, bluebells in the Fauxquets Valley and Moulin Huet and so on.
The calendars cost £5.50 with an envelope.
They are available in many local outlets or you can purchase them direct by contacting Pat Wisher on 268088 -
patwisher@cwgsy.net
.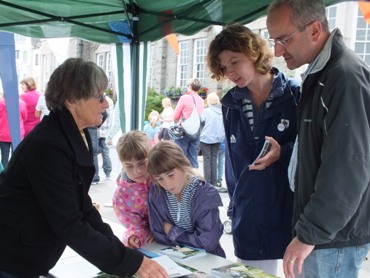 Val Rowland sells Guernsey Country Walks cards
click here to see our February page
Living Streets "Guernsey Country Walks" cards prove popular at Arts Sunday

Living Streets set up a stall at the Arts Sunday event in Guernsey on Sunday 17th June 2012. This all day event was held on the St. Peter Port seafront and it attracted both locals and tourists. Pat Wisher and Val Rowland manned the stall selling Guernsey Country Walks greeting cards individually and in packs of 5 or 9. The packs of cards proved very popular and we raised £369 towards our Baubigny Schools pathway project.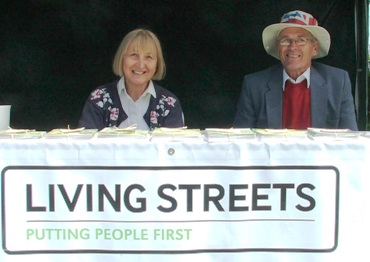 Pat and Tom at Fairfield
Living Streets joins the Jubilee celebrations in Castel at Fairfield

Chair, Tom Le Pelley, and Secretary, Pat Wisher, set up a stall at the Castel Parish Jubilee celebrations on Monday 4th June 2012 selling the Living Streets "Guernsey Country Walks" greeting cards. The all day event was opened by the Lt-Governor of Guernsey, Air Marshall Peter Walker. The atmosphere in this beautiful site was brilliant and we had a very good day selling around 300 cards.




Guernsey Country Walks greeting cards - 5 new cards for 2012

Five new cards have been added to the series - two are linked to the Longfrie Hotel, one to Cafe D'Escalier at the Gouffre, one to La Croix Guerin Cafe in St. Martin and the last is linked to the Sausmarez Park Cafe.

We sell our cards at the St. Martin's Farmers Market on the last Saturday of each month. Selling directly to the public gives us more profit so please do come and see us and support this fund raising venture.
click here to see the 5 new cards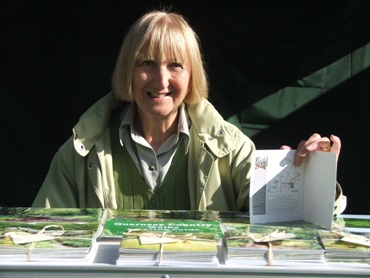 Pat Wisher selling cards at the Sausmarez Manor Farmers Market
Guernsey Country Walks greeting cards prove popular

Sales of our greeting cards are going well and in the first 4 months we have sold around 4,500 cards both directly to the public and through retail outlets.

We are extremely grateful to Peter de Sausmarez for allowing us to sell the cards at his Farmers Market and not charging us for the space. We attended the Farmers Market today (15th October) and made £117. The total sales from the three Farmers markets we have attended (we do one a month) is now £388.

Future plans for the project include three new designs next spring and a calendar for 2013.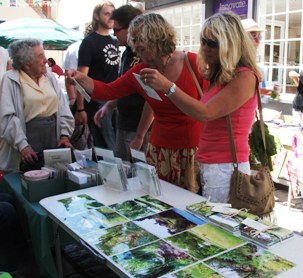 Islanders check out the new cards
Click on this link to see more news of our activities
Guernsey Country Walks Greeting cards launched

Living Streets Guernsey LBG launched its new range of greeting cards during the Photographic Festival event in the Old Quarter of St. Peter Port on 25th June.
The greeting cards are intended to celebrate Guernsey's beautiful countryside and, in particular, its Ruettes Tranquilles and green lanes. Guernsey is well known for its beautiful cliff paths and coastal views but there is also some lovely countryside in the centre of the island. Living Streets wants to encourage islanders and tourists to explore this lovely area.
The greeting cards depict a country scene on the front and inside there is a sketch map of a walk of about an hour which is linked to a local pub, cafe, restaurant or hotel where walkers can have lunch or stop off for coffee or tea.
There are nine cards in the series - each one with a different walk. So far the walks are in the parishes of St. Andrew, St. Pierre du Bois, Castel, Torteval and St. Saviour.
Pat Wisher, who designed the cards, and Val Rowland manned a stall in the Old Quarter to show off the new cards. Between 2pm and 5pm 212 cards were sold and there were many appreciative comments about the uniqueness of the cards.
The cards cost £1 each and they can be purchased from St. Peter's Post Office, The Coachhouse Gallery, Beekers at the Bridge, Lexicon and The Press Shop in Town, Guernsey Clockmakers at The Little Chapel and in the Guernsey Museums.
Each pub/cafe/hotel/restaurant featured in the cards also will be stocking its own card: Fleur du Jardin Hotel, Bella Luce Hotel, Imperial Hotel, Longfrie Inn, Last Post pub, Auberge du Val Hotel, Guernsey Pearl Centre, Le Chene Hotel.
If you would like more details about the cards please contact Pat Wisher on 01481 268088 or
patwisher@cwgsy.net
. There is also a document that you can download below which will show you each picture and an example of one of the walks.